7 Best Freelancing Websites In Pakistan For Beginners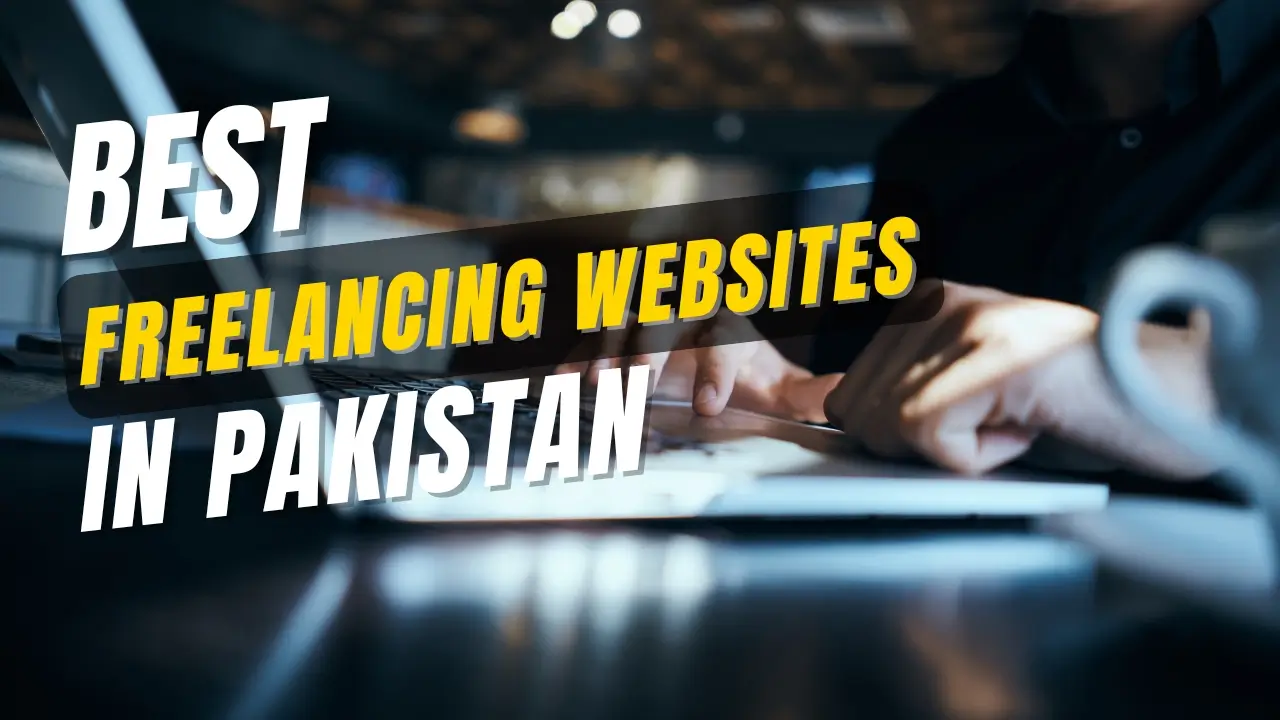 What is Freelancing, and Why is It worth it?
Freelance, a term synonymous with flexibility and freedom, refers to working independently as a self-employed individual rather than being tied to a traditional 9-to-5 job. The freelancing industry is one of the best ways to earn money as a freelancer with Pakistan's best freelancing skills.
In this article, we will be discussing the best freelancing websites in Pakistan that offer quality jobs and reliable payment options.
Top Best Freelancing Websites in Pakistan For Freelancer
| | |
| --- | --- |
| Upwork | 1.5 million active freelancers, 650,000 active clients, an average hourly rate is $21 and $2 billion in annual revenue, and 10 million registered users in 180 countries. |
| WorkChest | 68 million registered users, 2 million active projects posted, an average project size is $178, and $1 billion in annual revenue, 247 countries, regions, and territories represented. |
| Freelancers | 68 million registered users, 2 million active projects posted, an average project size is $178, and $1 billion in annual revenue, 247 countries, regions and territories represented. |
| Guru | 1 million registered users, an average project size is $500, and $100 million in annual revenue, 80 countries represented. |
| PeoplePerHour | 1.4 million registered users, an average project size is $150, and generated over $264 million in annual revenue, 208 countries represented. |
| Fiverr | 5 million active freelancers, 3.4 million active buyers, an average gig price is $5, $1 billion in annual revenue, 200 countries represented. |
| 99Designs | 800,000 active designers, 1 million active clients, an average project price is $500, $100 million in annual revenue, 190 countries represented. |
These stats are taken from Google Bard.
Why is freelancing in Pakistan is Worth it?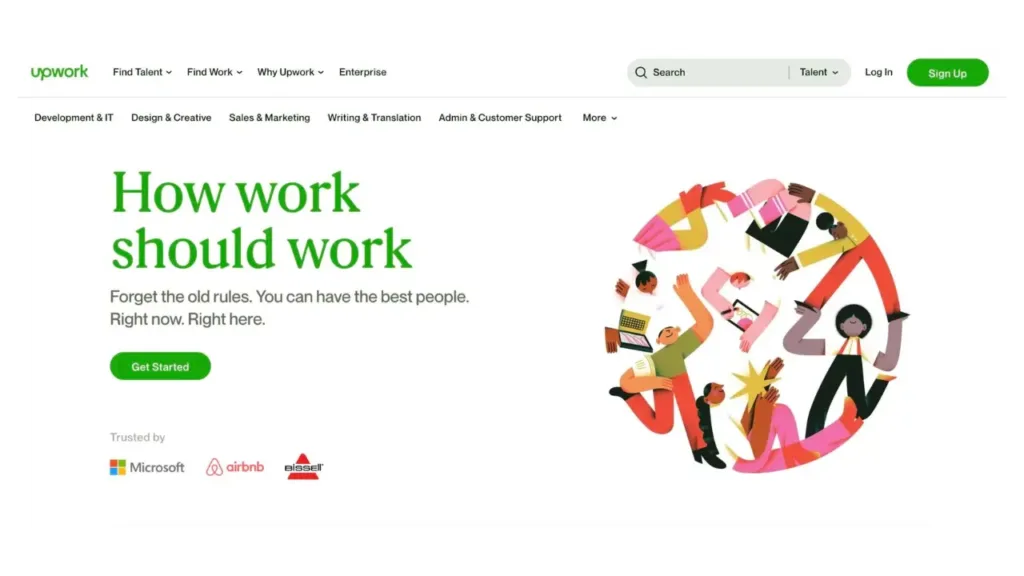 Upwork is the world's largest and most popular freelancing platform and there are a number of freelancers with over 500,000 users. It connects talented professionals from around the world with businesses and clients who need their skills and expertise.
Upwork makes it easy for people to find and connect with jobs, and to get paid for the work they do.
There are many benefits of using Upwork in Pakistan. First, It's a very popular website with a lot of users, so you have a good chance of finding clients there.
Second, the website is easy to use and has a lot of features that make it easy to find and contact potential clients.
Third, Upwork takes a small percentage of your earnings, so you can keep more of the money you make. Finally, Offers a wide range of services, so you can find work in many different areas.
How to withdraw money from Upwork in Pakistan?
Withdrawing money from Upwork in Pakistan is easy and can be done through a number of different methods. The most popular method is to use a local bank account, which can be done by setting up a Pakistani bank account and you can also make withdrawals through Payoneer, Western Union, or MoneyGram.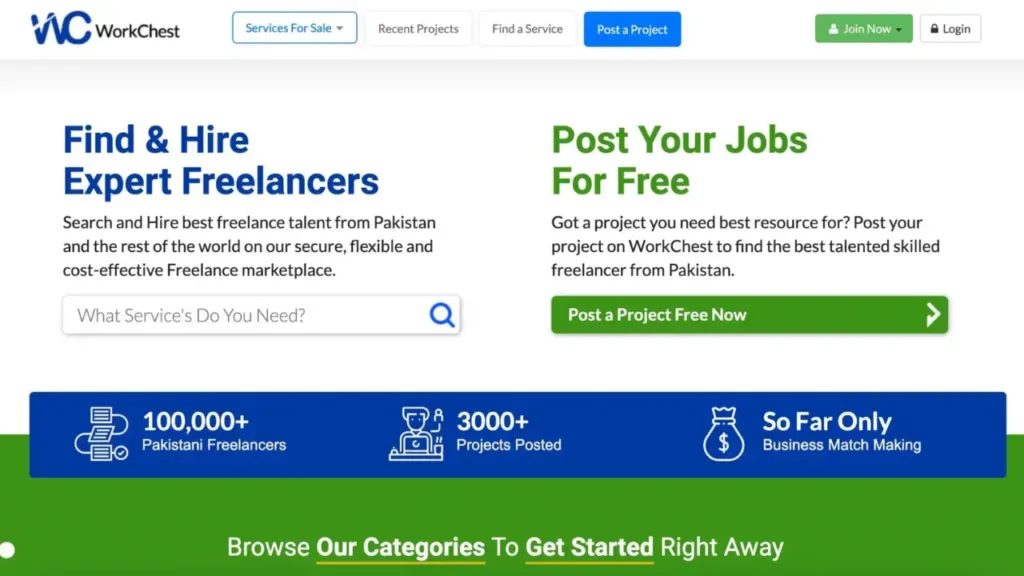 WorkChest is another newest and fastest-growing freelance marketplaces for freelancers in Pakistan. You can Hire Pakistani Freelancers to get quality service.
WorkChest offers a number of features that make it easy for businesses to find and post jobs, such as an easy-to-use job board and search engine, and web development which makes finding the right freelancer fast and easy.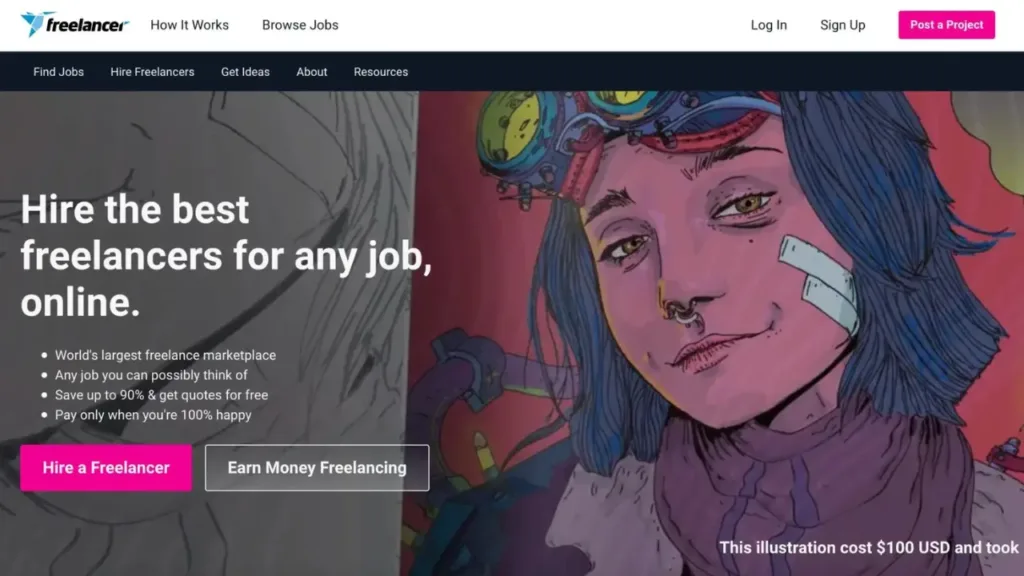 Freelancer.com is also a great platform that connects businesses with talented freelancers. That provides valuable resources and support to businesses of all sizes and enables experts to find well-paying jobs in a variety of industries.
Since its inception in 2009, Freelancer.com has become one of the leading platforms for finding freelance work. Over 1 million businesses use the site to post projects, and over 59,961,774 freelancers are registered users.
From marketing services to software development, It has a wide range of options available for aspiring freelancers.
Projects can be posted quickly and easily, and clients can search by location or skill set. Freelancer.com also offers helpful resources such as tutorials and FAQs, which makes it easy for businesses to get started with using the platform and is an essential tool for anyone looking for quality freelance work in a range of industries.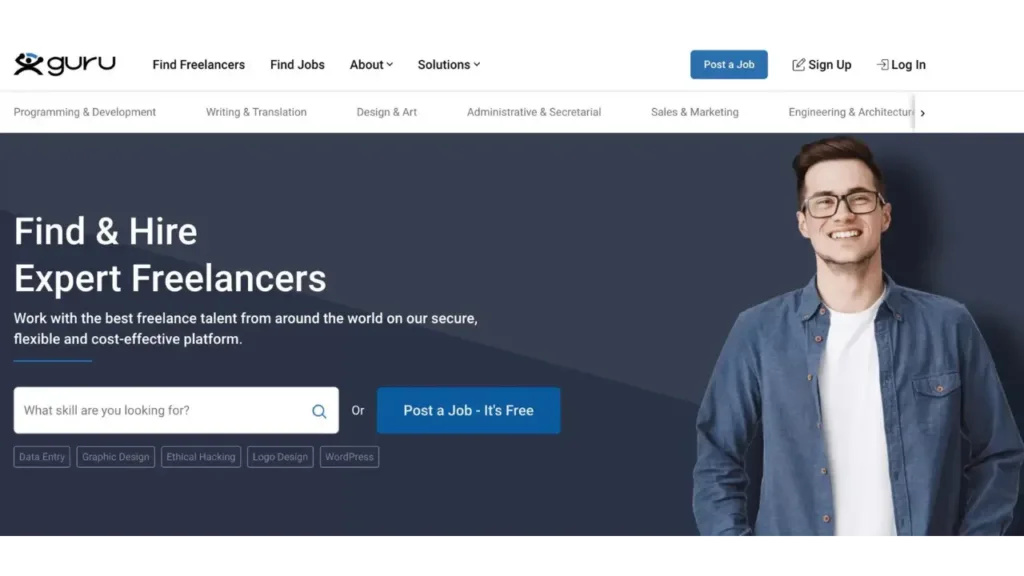 Guru is another platform that provides freelancers with the opportunity to find and work with clients. The marketplace allows to post their services and receive offers from clients, that can browse through the various services offered by freelancers and make an offer.
Once a deal is made, the client pays the seller according to the terms of the agreement.
The Guru marketplace is an excellent resource for freelance professionals who want to find new clients and earn an income from their work.
1. Guru offers an easy way to find and connect with talented freelancers from all around the world and provides transparency and trustworthiness for both clients and freelancers.
2. This website allows freelancers can find work from a wide variety of clients, which gives them the opportunity to work on a variety of projects.
3. People are getting quality services at a fraction of the cost compared to hiring a full-time employee.
4. This marketplace constantly expanding, which means that there are always new opportunities available for freelancers.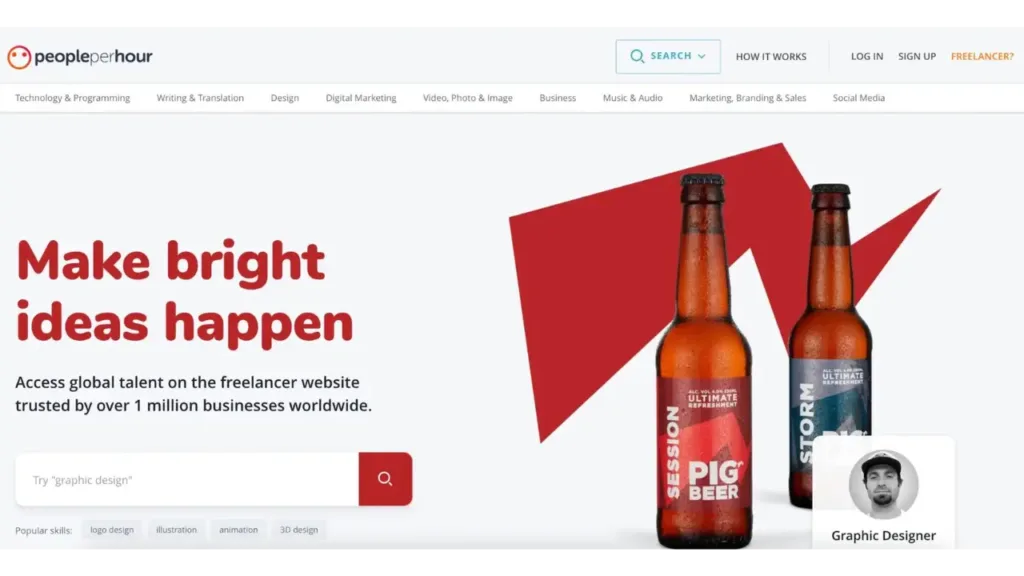 Looking for the best freelancing websites in Pakistan? Check out PeoplePerHour. With a massive pool of talented freelancers, it's the perfect place to find your next virtual assistant, graphic designer, web developer, or content writer.
There are a lot of businesses that post jobs on PeoplePerHour with hourly rates. Many businesses find that hiring remote workers through this freelance site is a more cost-effective option than hiring full-time employees, especially if the job duties do not require face-to-face interaction.
Additionally, by posting a job on PeoplePerHour, businesses can reach a larger pool of potential candidates than they would if they were only posting jobs on their own websites.
This website also offers multiple payment methods to suit your needs. You can choose to pay via PayPal, credit card, or bank transfer.
6. Fiverr Is One Of The Best Freelance Websites For Beginners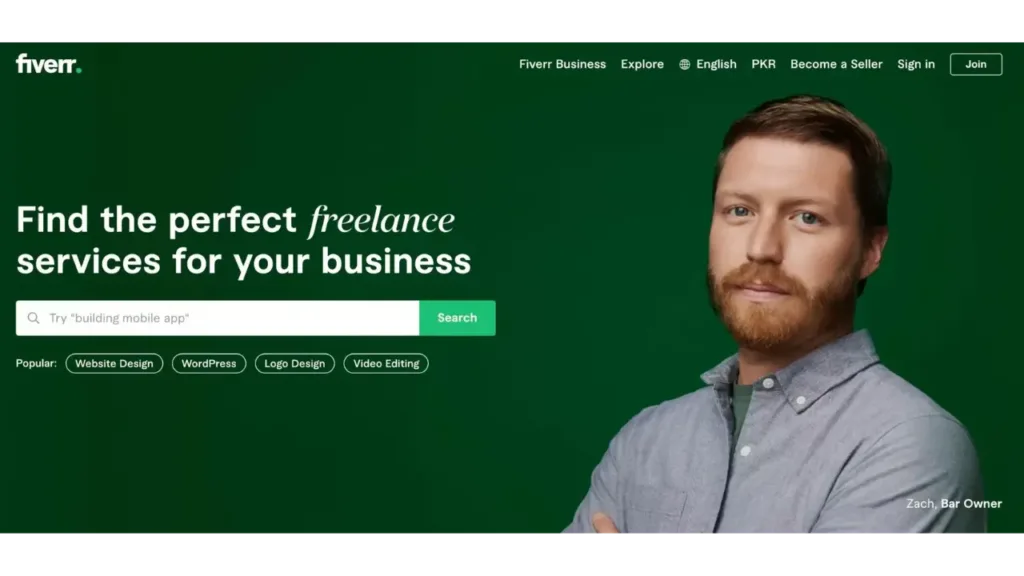 If you're looking for the best freelancing platform in Pakistan, then you'll want to check out Fiverr. It's a great marketplace for finding reasonable prices for buyers, and it also has some great benefits. For example, you can get paid very quickly on Fiverr, and there's also a low withdrawal limit.
There are several reasons why Fiverr is so popular among Pakistani freelancers.
First, the site has a huge range of different types of jobs available. Whether you're a visual designer, writer, or web developer, you're sure to find work that suits your skills on Fiverr.
Second, the pay is very good compared to other freelancing websites. You can easily make a good income by working on Fiverr.
Finally, the site is very user-friendly and easy to use. You can get started finding work on Fiverr right away without any hassle.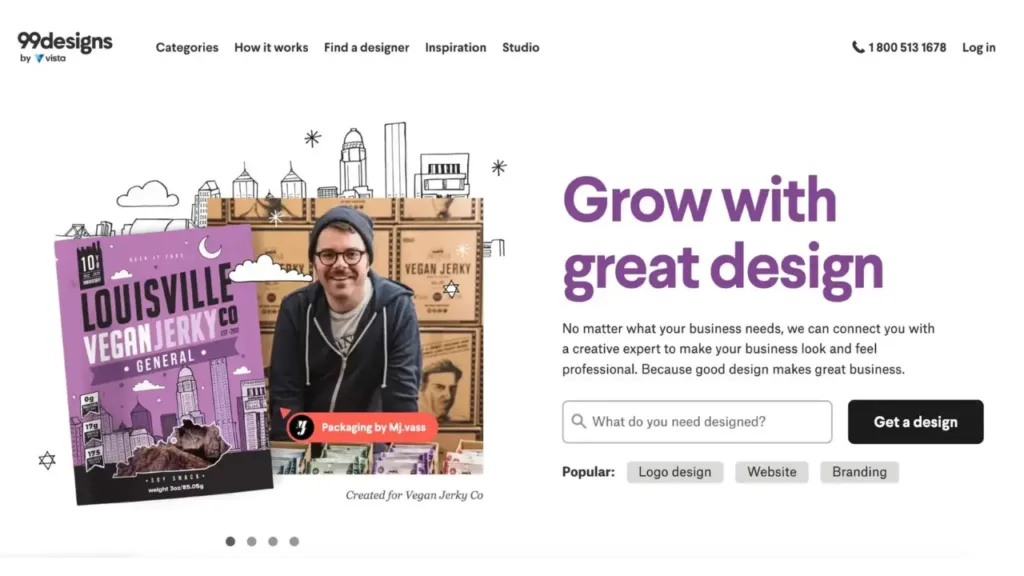 99 Designs is a web-based design marketplace that connects clients with talented freelance designers and developers. Clients can browse portfolios, request proposals, and hire designers and developers to create custom designs or modifications to existing designs.
Designers and developers can receive compensation based on the complexity and size of the project and sell their graphic design services, as well as the number of hours they spend working on it.
Clients browse portfolios of talented freelance graphic designers and developers, request proposals, or browse completed projects. If a client chooses a project, they will be asked to provide some basic specifications about the design or modification they want to be done.
A designer or developer creates a proposal based on client specifications. If the project is approved, the designer or developer begins working on the project. Payment is based on the amount of work completed and the complexity of the project.
Keep Focus on Consistency
If you want to be a successful freelancer, you need to be consistent and patient. These are two of the most important qualities you need to have. If you're not consistent, you won't be able to build up a strong client base.
And if you're not patient, you won't be able to deal with the ups and downs of freelancing.
Consistency is that it can help freelancers build a strong online presence. By being consistent with the content and tone of your work, you can create a strong impression with potential clients and clients who have worked with you in the past. This can lead to more opportunities and higher fees.
Conclusion
These are some of the best freelancing websites which are available in Pakistan for finding high-quality jobs and reliable payment options. Nowadays freelancing is one of the best options for beginners to make money online industry in Pakistan from the comfort of their homes.