Are you looking for a complete guide on how to sell on Etsy?
This is the right planet to be on. I will show you a guide on how to sell on Etsy step-by-step for beginners to experts.
After completing this easy guide you will be capable to sell on Etsy.
This Etsy easy guide is made for beginners. In this article, you go through each and every common step with visuals for easy understanding.
Etsy is a global online marketplace that was founded in 2005 and has since become one of the leading platforms for buying and selling handmade, vintage, and unique goods.
Etsy offers a diverse range of products, including jewelry, clothing, home decor, art, and furniture. In addition to handmade items, Etsy also allows the sale of vintage goods that are at least 20 years old, as well as unique factory-manufactured items.
With over 7.3 million active sellers and over 93.9 million active buyers, Etsy offers a thriving community of creatives and entrepreneurs from all over the world.
Before Starting Check Some Etsy Facts and Highlights
High Demand: One of the great things about selling on Etsy is that there is a high demand for unique and handmade items. People love to support small businesses and independent creators, and that's exactly what you'll find on Etsy. Whether you're a hobbyist or a professional artist, Etsy is the perfect platform to showcase your talent and make some extra cash.
Low Costs: Setting up a shop on Etsy is easy and affordable. You will only pay $0.20 for a small listing fee and a commission based on sales, so you can get started with minimal investment. Plus, Etsy offers resources to help you build your brand and grow your business, so you can focus on what you do best – creating amazing products!
Easy to Set Up Shop: One of the best things about Etsy is how easy it is to set up your own shop. With just a few clicks, you can create a profile, list your products, and start selling to customers around the world.
Supportive community: One of the things that set Etsy apart from other online marketplaces is its supportive community of buyers and sellers. Whether you're looking for advice on how to improve your shop or want to connect with other creative entrepreneurs, Etsy is the perfect place to find like-minded individuals who share your passion for handmade and unique products.
How to Set up an Etsy Shop Step By Step
Pick a Memorable Etsy Shop Name
When starting an Etsy shop, choosing the right name is crucial to grabbing the attention of potential customers and setting your business apart. But with so many shops already on the platform, finding a unique and memorable name can be challenging. Don't worry – we've got you covered with some simple steps to help you come up with a winning Etsy shop name.
Brainstorm Keywords and Phrases That Represent Your Shop's Brand
The first step in creating a memorable Etsy shop name is to brainstorm a list of keywords and phrases that best represent your brand. Think about what sets your shop apart from others, your niche, your target audience, and the types of products you sell.
Make sure to choose keywords and phrases that are not only descriptive but also catchy and easy to remember. For inspiration, you can use online tools like Thesaurus or Google Keyword Planner to generate ideas related to your product category.
Once you have a list of potential words and phrases, start playing around with combinations until you find one that stands out and resonates with your brand.
Use Online Resources to Generate Name Ideas
Online resources can be a great help when generating ideas for your Etsy shop name. Using tools like Thesaurus or Google Keyword Planner can provide you with inspiration and new perspectives related to your product category.
These resources allow you to broaden your search and find keywords and phrases that you may not have thought of before.
Additionally, you can use domain name generators, online marketplaces, and competition analysis tools to see what names are being used by successful Etsy shops in your niche.
By using these resources, you increase the chances of finding a unique and memorable name for your Etsy shop.
Target Audience and Create a Name That Resonates With Them
When you choose a name for your Etsy shop, it's important to consider who your target audience is and what will resonate with them.
Your shop name should reflect the products or services you offer and appeal to your target customers' interests, values, and lifestyles.
For example, if you sell handmade baby clothing, a name that conveys warmth, comfort, and coziness could appeal to parents looking for adorable and comfortable outfits for their little ones. Additionally, using puns or humor can add personality to your name and make it more memorable.
Just be sure that any play on words relates to the nature of your business so that it does not cause confusion among potential customers.
Keep It Simple, Memorable, and Easy to Spell
Simplicity is key. Avoid using complex or lengthy names that will confuse your customers or be difficult to remember. Instead, focus on creating a name that is easy to remember and simple to spell.
Keep in mind that many customers will be typing your shop name into search bars or social media platforms, so a complicated name could make it harder for them to find your shop.
Additionally, using unique spelling or punctuation may look creative and attractive, but it can also make it harder for customers to find you online. Stick with simple and straightforward names that accurately represent your brand and are easy for customers to remember and type out.
Name Is Available as a Domain and on Social Media Platforms
It's important to ensure that your Etsy shop name is available on social media platforms and as a domain before finalizing your decision.
This helps build consistency across all channels, making it easier for customers to recognize and remember your brand. Use domain name registries like Hostinger, GoDaddy, and Namecheap to check whether your desired domain name is available.
Similarly, check popular social media platforms such as Facebook, Twitter, Instagram, and Pinterest to see if the username you want is still open. If not available, try brainstorming alternative names or unique variations that accurately represent your brand's values and voice.
Once You Have Done This, Now You Have to Move Further Steps to Account Creation in 4 Steps.
Here is the basic information required for an Etsy account:
Email address:
First name:
Password:

Once you have done this step, click on the right-top side profile icon and then click on "Sell on Etsy"
Step 1: Set up Your Shop Preferences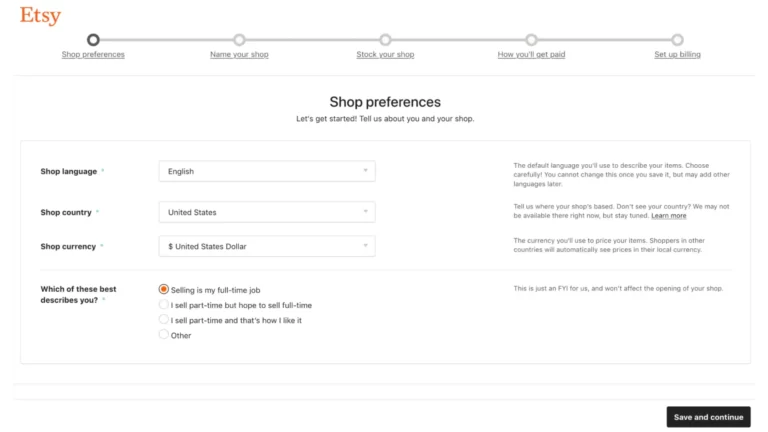 Shop language: Select the language you want your shop to be displayed in. This is important for reaching customers who may speak different languages or who are located in different countries.
Shop country: Choose the country where your shop is located. This can affect how your shop appears in search results and may also impact your shipping and tax policies. Make sure to select the correct country.
Shop currency: You can specify the currency you want to use for your shop's prices. This is necessary for ensuring that your prices are clear and consistent for customers, regardless of their location.
Time pledge: Select the right one for you, 1. Selling a full-time job, 2. A part-time hope will be full-time, 3. Selling part-time to check how it works, 4. Other.
Step 2: Select the Name of the Shop and Its Availability
Selecting a shop name is a technical step Make sure you complete the read name selection topic available on the top.

And, you should also follow these guidelines:
Shop name should be 4–20 characters in length.
Shop name should not contain spaces or special characters.
Shop name should not contain profanity.
Shop name should not already be in use by an existing Etsy member.
Shop name should not infringe on another's trademark.
These guidelines ensure that your shop name is unique, appropriate, and doesn't violate any intellectual property rights. It's essential to follow these guidelines when choosing your shop name to avoid any potential legal issues or confusion with other shops.
Step 3: Create a Product List for Your Shop
At the beginning of the shop opening, at least one product list is required. Etsy offers up to 10 listings for better visibility chance. When comes to visibility, check out Etsy SEO practices for beginners.
Here are some key elements for creating a product list.
List title: You'll need to create a descriptive and attention-grabbing title for your listing that accurately represents your product.
Product photos: You'll need to have high-quality photos of your product to include in your listing. This helps customers get a better sense of what your product looks like and can help increase sales.
Product Description: You'll need to write a detailed description of your product, including its features, dimensions, and any other relevant information.
Product pricing: You'll need to set a price for your product that takes into account your costs, time, and any other factors that affect the value of your product.
Product category: You'll need to select the category that best fits your product, which helps customers find your product when searching Etsy.
Product tags: You'll need to choose relevant tags that describe your product and help customers find it when searching on Etsy.
Shipping Information: You'll need to specify the shipping options available for your product, including the cost and estimated delivery times.
Quantity available: You'll need to specify how many of your products are available for purchase, which helps customers know whether the product is in stock.
Variations: If your product comes in different sizes, colors, or other variations, you'll need to specify these variations in your listing.
By including all of this information in your listing, you can help to increase your shop visibility, and sales and provide a better shopping experience for your shoppers.
Step 4: Set Up Billing and Payment Method
As an Etsy seller, you have to add a payment method to receive your payments. If you're an Individual or a sole proprietor Etsy will ask for your tax information and biodata, such as your full legal name, date of birth, home address, and taxpayer ID. for: US individual seller's SSN is required. for: Incorporated business you will require a legal entity name, business registration number, legal business address, and EIN. Etsy may also require you to provide personal identification, such as a driver's license or passport, to verify your identity and protect against fraud.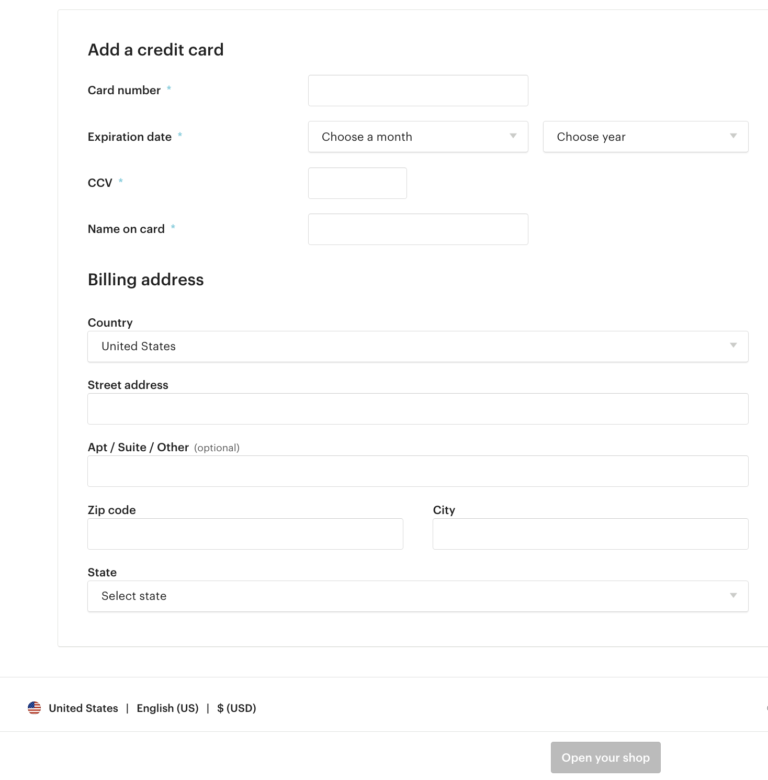 After that, you have to add the billing information of your credit or debit card as a charging method.
You will need:
Card number
Expiration date
Billing address
Security code (CCV)
Main fees of Etsy for using their platform:
Listing fee: Etsy charges a $0.20 fee to list a product in your shop. This fee is non-refundable and is charged per list, per four-month listing period.
Transaction fee: Etsy charges a 5% transaction fee on the sale price of each item, This fee is automatically deducted from your sale amount.
Payment processing fee: If you choose to accept payments through Etsy Payments, Etsy charges a payment processing fee of 3% + $0.25 per transaction.
Currency conversion fee: If you sell in a currency other than your shop currency, Etsy charges a 2.5% fee for currency conversion.
This is important to keep these fees in mind when setting your listing price and calculating your profits on Etsy. You can find more information about Etsy's fees on its website.
After completing, this billing information, click on the "Open your shop" button right button side. And boom, Congratulations on your new Etsy business journey.
Shop Is Done, but the Shelves Are Empty
Here Are Some Majestic Guidelines to Make It Big:
Now your shop is done, the next one is to update your shop banner, announcement section, and bio section.
Shop Banner:
Use high-quality visuals: Your banner should be visually appealing and high-quality. Use high-resolution images that are in line with your brand.
Add your shop name: Make sure your shop name is clearly visible in your banner. This will help customers to identify your brand quickly.
Keep it simple: Avoid cluttering your banner with too much text or graphics. Keep it simple and clean to make a strong impression on shoppers.
Announcement Section:
Use clear and concise language: Your announcement section should be easy to understand and clearly convey important information about your shop, such as sales or shipping times.
Keep it up to date: Make sure to update your announcement section regularly to keep customers informed about any changes or updates to your shop.
Be professional: Use a professional tone and avoid using slang or informal stuff. This helps build trust with potential customers.
Bio Section:
Introduce yourself: Your bio should give customers an idea of who you are as a person and what your brand is all about. Consider including a brief bio or story about yourself.
Highlight your products: Make sure to showcase your products in your bio. This can include photos or descriptions of your most popular products.
Use keywords: Use relevant keywords in your bio to help your shop show up in Etsy search results.
Be personal: Don't be afraid to show your personality in your bio. This can help customers connect with you on a deeper level.
Remember to stay true to your brand and be consistent in your messaging across all parts of your shop.
Do Not Forget Setup Shop Policies
Having clear and well-defined shop policies can provide several benefits for your Etsy shop. You must assign it to your shop.
Here are a few elements about policies you can follow:
Be clear and concise: Your policies should be easy to understand and clearly communicate your shop's rules and regulations. Define in simple language and avoid jargon.
Cover all important topics: Make sure your policies cover all important topics, such as shipping, returns & exchanges, delivery & cancellations, and payment options. Consider adding sections on custom orders, international orders, and wholesale options if applicable.
Be consistent: Make sure your policies are consistent with your brand and messaging. It helps build trust with shoppers and create a cohesive shopping experience.
Consider your target audience: Your policies should be tailored to your target audience. For example, if you sell products for children, you may need to have more strict safety policies in place.
Be transparent: Transparency is key to building trust with your loyal customers. Be upfront about your shipping times, return policies, and any fees or charges associated with your products.
Update your policies regularly: As your shop grows and changes, make sure to update your policies accordingly. This will help ensure that your customers have the most accurate and up-to-date information.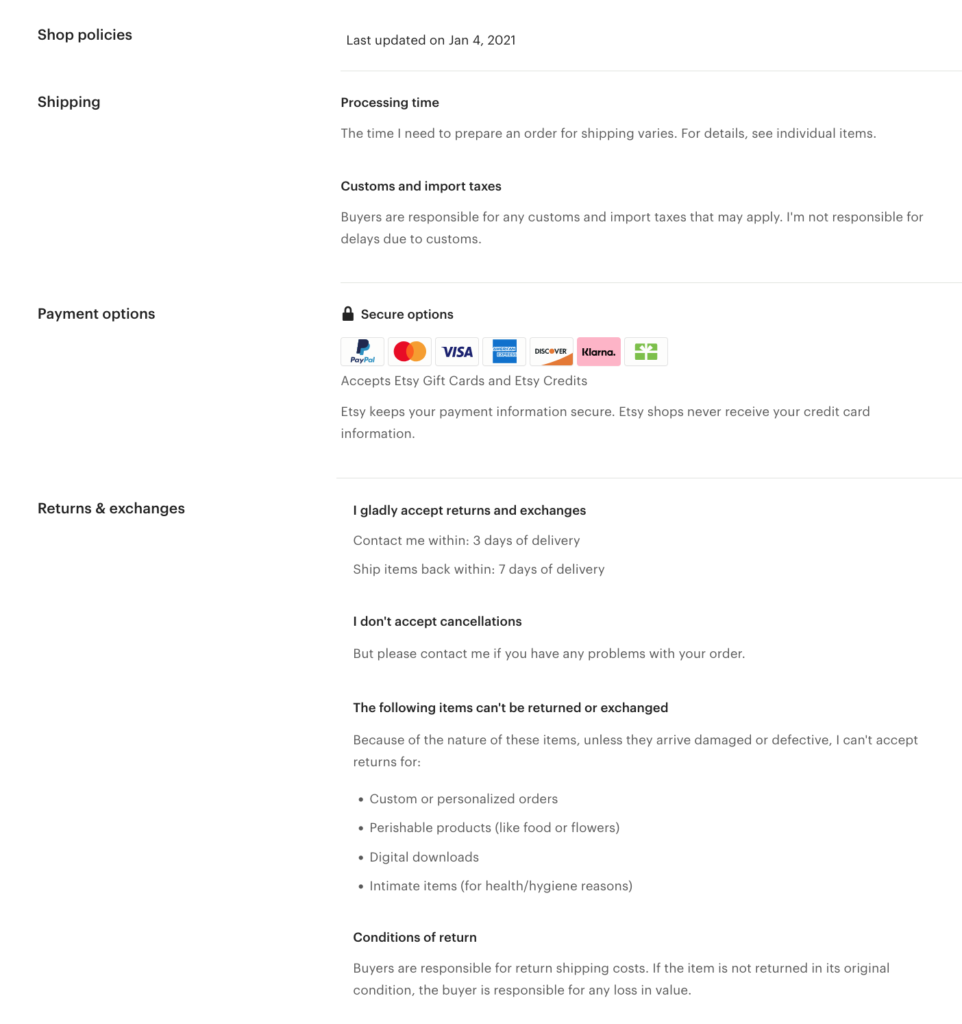 Best-Selling Products on Etsy and How to Create Them
Etsy is a thriving marketplace for handmade, vintage, and unique items. As a seller on Etsy, it's important to keep an eye on the best-selling products on the platform. By creating products that are in high demand, you can increase your chances of success on the platform. Here are the top best-selling products on Etsy and how to create them:
Personalized Gifts are always popular on Etsy. You can create personalized items like mugs, t-shirts, and jewelry with names, initials, or special messages. Consider offering different personalization options, such as font styles and colors.
Handmade Jewelry is another top-selling product on Etsy. You can create unique pieces using a variety of materials, such as beads, wire, and metal. Consider offering different styles, such as boho, minimalist, or statement jewelry.
Digital Prints is another excellent option for sellers who want to offer instant downloads. You can hire graphic designers or design your own, printable wall art, planner inserts, or party decorations. Consider offering different themes, such as inspirational quotes, botanical prints, or watercolor designs.
Pet Accessories are a popular niche on Etsy. You can create items like collars, bandanas, and pet beds. Consider offering different sizes and styles to cater to pets and their owners.
Bath and Body Products is also a popular category for sellers who want to offer handmade skincare and self-care items. You can create things like soap, bath bombs, and body scrubs. Consider offering different scents and packaging options.
Wedding Decor is a popular niche on Etsy. You can create items like wedding invitations, table numbers, and cake toppers. Consider offering different styles, such as rustic, boho, or modern.
Handmade Clothing is a popular option for sellers who want to offer unique and sustainable fashion. There is a wide range of items like dresses, tops, and skirts. Consider offering different sizes and styles, such as vintage-inspired or eco-friendly.
Home Decor is a broad category on Etsy that includes items like pillows, wall art, and planters. Consider offering different themes, such as farmhouse, boho, or modern.
Craft Supplies Craft supplies are a popular niche on Etsy. You can sell supplies like beads, fabric, and yarn. Consider offering different colors and materials to cater to different crafters.
Vintage Clothing and Accessories is a unique option for sellers who want to offer unique and sustainable fashion. You can source vintage items from thrift stores, estate sales, or flea markets. Consider offering different sizes and styles, such as retro, boho, or streetwear.
These are the top best-selling categories on Etsy. Consider offering different variations and customization options to cater to your customer's needs and preferences. Good luck with your Etsy shop!
How to List a Product on Etsy With Proper SEO
This guide will take you through the process step-by-step: from listing your product to shipping and payments. With these tips, you'll be ready to start building your business on Etsy in no time!
Choose a Descriptive and Unique Title
The title of your product should include relevant keywords that potential buyers might search for. To make sure your shop is seen by the right customers, use appropriate keywords that describe the items you offer. It's also important to select relevant categories for each item and use them in combination with keywords when creating product listings. This will help ensure that customers can easily discover your shop.
Write a Detailed Description
Your product description should be detailed and informative. Use relevant keywords and phrases throughout the description, but make sure it reads naturally and isn't stuffed with keywords.
Add tags
Tags are keywords that help Etsy categorize your product and make it easier for potential buyers to find. Use relevant tags that accurately describe your product and include both general and specific keywords.
Use High-Quality Images
High-quality images are essential for showcasing your product and attracting potential buyers. Make sure your images are clear and well-lit, and show your product from different angles.
Set a Competitive Price
Do some research to see what similar products are selling for and set a competitive price. A well-priced product can help you stand out from the competition.
Optimize your shop policies: Your shop policies can also impact your search ranking on Etsy. Make sure your policies are clear and concise, and include relevant keywords.
Promote Your Etsy Shop
Marketing your Etsy shop is an important part of growing your business and targeting new customers. Here are some best practices for promoting your Etsy shop and hopefully this will help out:
Social Media
Social media is a great way to reach a large and engaged audience. You can create social media accounts for your Etsy shop and share your products, promotions, and behind-the-scenes updates with your followers. You can also join relevant social media groups and communities to network with other Etsy sellers and buyers.
Search Engine Optimization (SEO)
SEO is the process of optimizing your shop and listings to rank higher in search engine results pages (SERPs). By optimizing your shop and listings with keywords, meta descriptions, and other relevant information, you can make it easier for buyers to find your products when searching for similar items on Etsy or on search engines like Google.
Paid advertising
Paid advertising can be a great way to reach a large audience and drive traffic to your Etsy shop. You can use tools like Google Ads or Facebook Ads to reach potential customers and promote your products. You can target your ads to specific audiences based on factors like location, interests, and demographics, to ensure you're reaching the right people.
Networking
Networking is a great way to reach new customers and build relationships with other Etsy sellers. You can attend trade shows, craft fairs, and other events to promote your products and connect with buyers and other sellers. You can also join Etsy teams and forums to connect with other Etsy sellers and buyers and share tips, advice, and best practices.
Collaboration
Collaborating with other Etsy sellers or small business owners can be a great way to reach new customers and build your brand. You can collaborate on promotions, events, or product launches to reach a larger audience and offer unique and exciting products to your customers.
With these marketing practices, you can reach a large and engaged audience, build your brand, and grow your Etsy shop. Whether you're just starting out or you're an established seller, marketing your Etsy shop is a crucial part of success in the marketplaces.
Explanation of the Etsy Community Why It's Important
Etsy community refers to the network of Etsy sellers, buyers, and other members who are involved in the platform. This community is a supportive and collaborative group, where members can connect, share ideas, and help each other grow their businesses.
There are various ways to be a part of the Etsy community, including joining Etsy Teams, participating in forums and discussions, and connecting with other members through the platform's messaging system.
Being a part of this community, sellers can gain valuable insights and feedback from other members, collaborate on projects, and build relationships with other like-minded individuals.
For buyers, the Etsy community offers a unique shopping experience, where they can discover and purchase one-of-a-kind items from independent sellers.
Overall, the Etsy community is a crucial aspect of the platform, helping to foster a supportive and vibrant marketplace for handmade and vintage goods.
Benefits of Etsy Compared to Other E-commerce Platforms
This e-commerce platform offers a range of benefits compared to other online marketplaces. Here are some of the advantages of using Etsy:
Focus on Handmade and Unique Products: Etsy is dedicated to handmade and vintage products, making it a perfect platform for selling unique and one-of-a-kind items.
Built-in Customer Base: With over 60 million active buyers, Etsy provides access to a large customer base, making it easier for sellers to reach new customers and increase sales.
Low Start-Up Costs: Compared to starting a standalone e-commerce website, setting up an Etsy shop is relatively inexpensive, which makes it an ideal option for small businesses and entrepreneurs with limited budgets.
User-Friendly Platform: Etsy provides a user-friendly platform for selling and managing products, which makes it accessible to both experienced and novice sellers.
Access to Tools and Resources: Etsy provides a range of tools and resources to help sellers grow their businesses, including analytics, shipping tools, and marketing resources.
Ease of Use: Etsy's platform is easy to use, allowing sellers to quickly list products and manage orders.
Reputation for Quality: Etsy has a reputation for quality, which can help to increase customer trust and confidence in your products.
By leveraging these benefits, sellers on Etsy can grow their businesses and reach new customers, making it an attractive option for small businesses and entrepreneurs.
In Conclusion,
What Do You Expect About the Future of Etsy
The future of Etsy is a hot topic in the e-commerce world right now. With the increasing popularity of online marketplaces, it's natural to wonder what's in store for Etsy in the years to come.
There's no doubt that Etsy has made a big impact on the e-commerce industry since its founding in 2005, and it looks like it will continue to shape the future of online marketplaces.
One trend that we can expect to see more of in the future is the rise of niche online marketplaces like Etsy. As consumers become more discerning about the products they buy, they're looking for online marketplaces that cater to their specific interests and needs. Etsy has already made a name for itself as the go-to destination for unique and handmade items, and this focus on niche products is only going to become more important in the future.
While there are many exciting developments on the horizon for Etsy, there are also potential challenges that the company will need to overcome.
For example, competition from larger e-commerce players like Amazon and Walmart may become more intense in the future, making it harder for Etsy to maintain its position as a leading online marketplace.
The impact of economic, and social factors on the e-commerce industry will also play a role in shaping the future of Etsy.