Which Skill is Best for Freelancing in Pakistan 2023?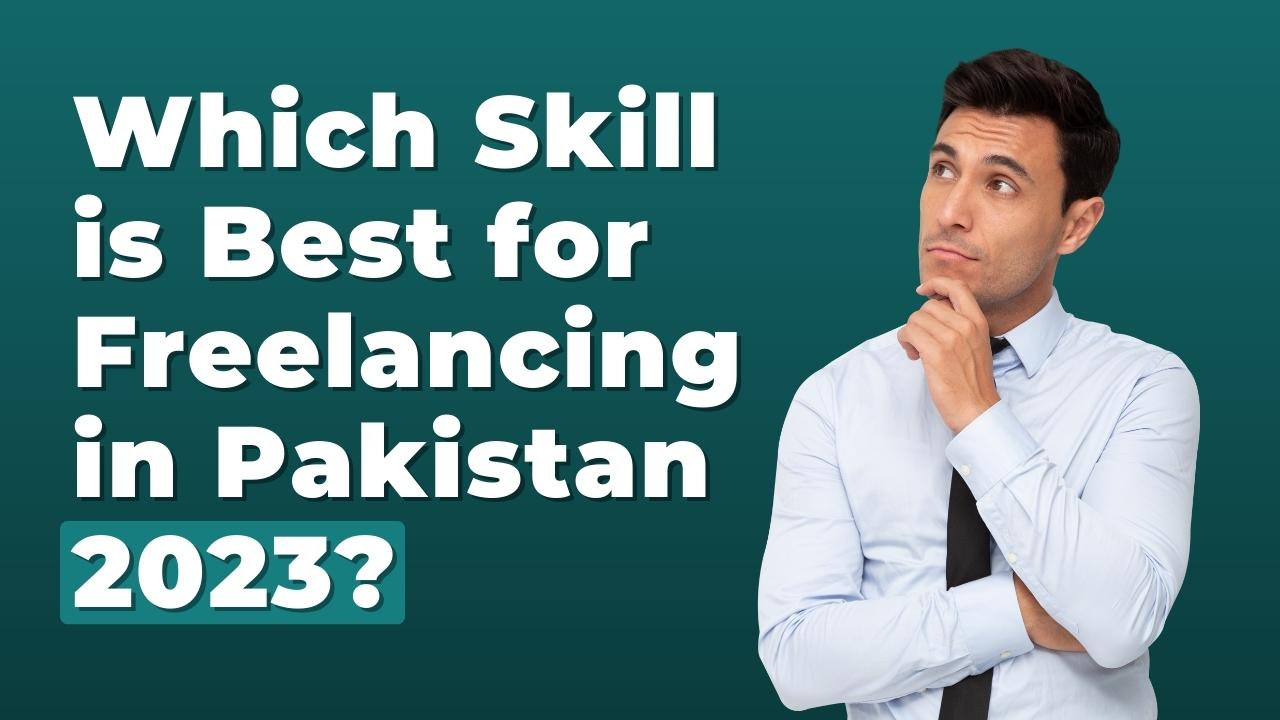 For five years, freelancing has been the fastest-growing industry in Pakistan. According to "BeingGuru" Website Development is one of the best skills for Freelancers in Pakistan.
But If you are a beginner and have decided to start freelancing career but are unaware of which skill is best for freelancing in Pakistan, choose the right one for working long-term in the market.
Every beginner has a question: Which skill set is best for freelancers, and what is the most reliable and free resource available in the market? So, no worries, I'll guide you to the best and where you learn it.
Which Skill is Best for Freelancing in Pakistan?
Here is a list of the Best Freelancing Skills in Pakistan
| | |
| --- | --- |
| Graphic Designing | Software Development |
| Content Writing | Mobile App Development |
| WordPress and Web Development | Digital Marketing and Social Media Marketing |
| Content Creation and Video Editing | SEO (Search Engine Optimization) |
As per my experience, these are the top-rated freelance platforms in Pakistan where you can sell your services. For beginners, Fiverr is a good option. But before you start selling your services, you have to first know which are the most in-demand skills and profitable. So, let's start.
Graphic Designing Skill in Demand
In most industries, graphic design is a high-demand skill. Every person or business needs a graphic designer for logo design, social media handles, website design, posters, and many more. So, If you are passionate about creative things, this skill is the best choice for you.
You can sell this service to restaurants to design food menus, and the benefit is there are lots of restaurants in the world. Learn this skill for free from Digiskills.pk, Udemy, and Canva. And, sell this service on Fiverr, Upwork, and WorkChest.
Content Writing is the Best Freelancing Skill
As an Etsy blog writer, there is a high demand for skilled content writers in the freelancing industry because, even today, 80% of Non-professional content writers can be found in the online market. If you are a beginner and want to start content writing without any experience, pay close attention to this information. 
First and foremost, you should create your own portfolio. After that, you should select 5 or 6 topics on which you can write content, just like you write on any topic in your regular life.
For example, in Health, Technology, Fashion, Blogging, and Lifestyle, choose an article and start practicing it. These topics are widely used in the online market, and when you start looking for work in the freelancing market, you will find a lot of opportunities related to these topics.
(Search Engine Optimization) Content writers earn the most on freelancing platforms. To learn content writing, it is essential to have good English skills.
If your English is not strong, you can use different tools like Google Translate. As a content writer, you need to explain your product or topic in simple words that grab the attention of your users and also the search engines, such as Google.
WordPress & Web Development Demanded Freelancing skill
In the online marketplace, WordPress development plays a significant role. Just as the world is progressing in online fields, the demand for WordPress is also increasing. 
Whether it's a blogger, entrepreneur, or freelancer, if they want to create their own website, they either need to learn WordPress development or hire a WordPress developer. If you are a beginner and want to learn WordPress, you can easily do so and sell your services on freelancing platforms. 
If you are a complete newbie, you can learn for free through YouTube and platforms like Udemy. To practice WordPress, you will need to create a simple blog, or you can install WordPress on free online platforms and learn through practice.
Content Creation and Video Editing are in good Demand in Pakistan
In the online market, similar to the digital world, freelancing marketplaces, YouTube videos, content creation, and video editing are considered powerful skills. By learning these skills, you can earn a significant amount of money and sell your services on freelancing platforms.
Developing both of these skills has become extremely easy in today's era, and you can even learn them for free. You can use tools such as Adobe CS6, Adobe Illustrator, Canva, or similar tools to easily acquire these skills.
When it comes to video editing, mentors often recommend Canva as the most convenient and user-friendly tool, where you can engage in various forms of content creation for free.
High-Paying Skills for Freelancers
Software Development
If you don't have a degree in software engineering, there is no need to worry. You can easily learn software development by following the provided details. 
Software development is a technical job where you can design, code, test, and maintain software applications using popular languages like JavaScript, Python, PHP, HTML, and CSS, which are well-known in the online market.
You don't need to pursue a software engineering degree to learn this field; you can take online courses that typically last 3 to 6 months. There is a high demand for software developers in the market, with numerous job opportunities available.
You can also offer your services on platforms like Fiverr, Upwork, Guru.com, and WorkChest and build a successful career. For the newbie to learn this skill, you can start with YouTube, where you will find plenty of related videos.
Mobile App Development
Mobile app development is a process in which you can design software applications that are used on smartphones or tablets, such as Apple's iOS and Android. 
To learn this skill, you need to learn designing and coding, which are the initial steps of this skill. The essential programming languages for mobile app development that beginners should know are Native, Java Swift, and Hybrid, also known as React Native. 
To work on this, you need a computer system or laptop and a mobile phone dedicated solely to this task. This skill can be learned on various online platforms, and as a beginner, you can earn a good monthly income by developing mobile apps for individuals or companies. 
You can also sell this skill on the freelancing jobs platforms "mentioned in the software development section". 
If you don't have a budget for learning, you can find numerous free courses on YouTube that may take around 3 to 4 months to complete, depending on your skills.
Digital Marketing & SMM
Social Media Marketing is a subset of Digital marketing that involves promoting brands, products, and services on social media platforms. 
Marketing used to be challenging in the past with different methods, but in today's digital era, this skill set has made it incredibly easy. You can read the details of how to do it in just one minute. 
Digital Marketing and SMM fall under a category where you can generate revenue by promoting your products on social media platforms, marketing your clients' projects, and even selling your services on these platforms. 
Facebook, Instagram, Twitter, LinkedIn, YouTube, Pinterest, Snapchat, and other social media platforms are used for Digital Marketing, with the mentioned platforms being the most prominent. 
There are two types of marketing on these platforms: Organic SMM, which is free, and paid marketing, where you can post paid ads. 
In today's era, whether someone is an Android user or an iOS user, everyone utilizes these social media platforms. As a beginner, you can easily work on these platforms, market your services, and even establish your own company.
SEO is one of the Top 10 Freelancing Skill
SEO, also known as the main pillar of all platforms, is the process of improving the performance of a website by, for example, increasing website traffic and getting it ranked by search engines like Google. 
Whether it's your own website a client's or a company's, this skill set is essential for all of them. Even if you want to run a YouTube channel, optimizing it is necessary. 
This skill is in high demand worldwide and also in Pakistan, Those skills have many job opportunities in the market but SEO is sought after globally, and those who possess this skill expertise have numerous employment prospects in the market. 
There are three types of SEO: On-Page, Off-Page, and Technical. On-Page optimizes the content structure on the backend of your website; Off-Page is used to rank your website on search engines like Google; and Technical deals with optimizing technical settings and resolving issues on your website. 
If you learn any one of these skills, you can generate revenue from your own website and also offer services on freelancing marketplaces to build your future.
Conclusion,
For learning purposes what popular freelancing platforms are available and which one is the best for learning online in Pakistan?
There are so many institutes and online learning platforms available for mastering these skills you can learn to make money in Pakistan.